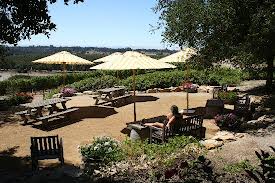 Arroyo Grande Valley  sparkling wine: and pinot's
LAETITIA ESTATE PINOT NOIR
A blend of 10 different Pinot Noir clones on the Laetitia property, this wine is an elegant expression of the ideal Pinot Noir growing conditions that define the Central Coast of California.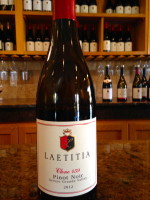 [youtube]http://youtu.be/CYZ_0aGDSd8[/youtube]
Sparkling Wine
Laetitia Brut Cuvée (NV) by Laetitia Vineyard & WineryThis wine is made from pinot noir, chardonnay and pinot blanc. The grapes were hand harvested, whole cluster pressed and tank fermented using champagne yeast. The wine undergoes malolactic fermentation and is then bottled in the springtime in the traditional Méthode Champenoise.
I personally love this and, I'm a club member of the bubbly type ~  Cat
As you can see, it had a pale straw color. Tight, abundant bubbles were present. Granny Smith apple notes dominated the nose. More apple, lemon zest and tropical fruit followed on the palate. This sparkling wine showed good structure and lacing. The wine would pear well with grilled fish or shellfish.
This wine can be purchased locally for $21.99 or directly 
from the winery's website for $25*
.
Thank you Nittany Epicurian for your review