This non-alcoholic drink will help you through your spring fever pains.
You know you have spring fever when you are frantically cleaning the house, dreaming about the plants you'll plant in your garden and switching out the hot tea for iced tea. ~
Prep Time: 3 minutes       Total Time: 3 minutes      Yield: 1 Drink
Ingredients:
3/4 ounce lemon juice
3/4 ounce mango syrup  (You can easily make your own mango syrup, this may be easier than finding it in the store.)
1 1/2 ounces apple juice
2 ounces blood orange juice
Preparation:
Pour the ingredients into a cocktail shaker filled with ice.
Shake well.
Strain into a collins glass half-filled with crushed ice.
Mango syrup
1 cup Mango
3/4 cup sugar
1/3 cup water
Cook fruit with sugar and water until thick. Smash fruit while cooking.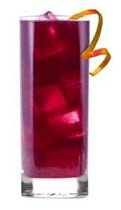 For a thin syrup – press through strainer. For a thicker syrup, process cooked syrup in a food processor.By Colleen Graham