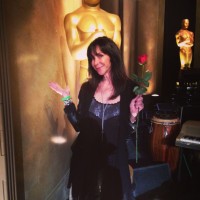 Randy Thomas made history as the first woman to announce The Academy Awards, The Emmy Awards, The SAG Awards, The AFI Awards, to name a few.
 Thomas has been winning accolades and opening doors for female voice artists for over 20 years.
For the past nine years she's been heard daily by millions of people as the iconic voice of CBS Television Distribution's "Entertainment Tonight," one of the most watched entertainment programs in the world.
In addition to voice over, with more than 20 years of experience as a radio personality in New York, Los Angeles, Detroit, and Miami, Thomas has gone on to achieve her dreams as one of the most recognizable voice-over artists in the world as well as co-author of "VOICE FOR HIRE: Launch and Maintain a Lucrative Career in Voice-Overs".
Randy lives on the Gulf Coast of Florida with Arnie Wohl, her husband of thirty years, teenage daughter, Rachel, and one giant Great Dane, named Malibu.. and her three cats. Her other passions are tennis, yoga, and rescuing turtles, that are native to SW Florida.
[youtube]http://youtu.be/wcoD_t4QKsU[/youtube]
I know it's March Madness for most these days, but a few weeks back I experienced the Red Carpet Madness as the announcer for "The Oscar Red Carpet Pre-Show" for ABC on Oscar Sunday March 2nd, 2014..
This year it was all about the fashion for me. With Robin Roberts, and Lara Spencer hosting it was a jam packed ninety minutes of fabulous celebrities and their formal Tuxes and gowns.
Just days before, on February 27th, yours truly had the distinct honor of announcing the first ever, Oscar Concert, at UCLA's Royce Hall.
Each of the Academy Award nominated composers had their song performed by the Academy Symphony Orchestra.
It was a glorious evening, the music was stunning, and I must applaud the Academy for putting this concert on, and hopefully it was the first of many to come.