Handling Holiday Stress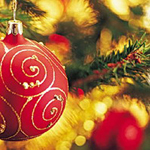 There are many things we can do to reduce "holiday stress."This involves making choices. For example, choosing to limit your commitments to those that you will have the time to enjoy can remove you from feeling rushed or pressured. Sticking to a reasonable budget can take the worry out of spending. Avoiding excessive drinking and eating, and getting enough rest can help overcome fatigue and provide you with a reserve of energy. Choosing to let go of negative thought about the holiday, and giving yourself positive expectations might seem difficult at first, but if you choose to do it, it will pleasantly surprise you. Use your imagination. Begin to think positively about how "new" the New Year will be for you.
The choices you make for your own attitudes, behavior, and feeling about the holiday season are yours alone. You do not have to let the joys of the holidays stress you. You can stress the joys instead. The alternatives to shopping mall madness, fatigue, guilt, and loneliness are worth making decisions about right now. If these seem overwhelming, you might begin by attending your place of worship. They have been stressing joy in holiday celebrations for a few thousand years.
By Steven Gurgevich, Ph.D.
Dr. Steven Gurgevich is a psychologist specializing in mind-body medicine and is Director of the Mind-Body Clinic in Dr. Weil's Arizona Center for Integrative Medicine. Dr. G. and his wife, Joy, are resident experts at both DrWeil.com and DrWeilonHealthyAging.com as well as their virtual home at Healing With Hypnosis.