Cookie Ice Cream Bowl
Serves: Makes 12 bowls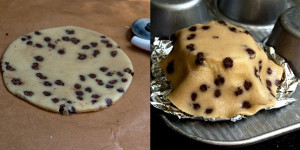 Ingredients:
3 cups all-purpose flour—I'm using Trader Joes Gluten free mix
2/3 cup firmly-packed brown sugar
1/3 cup granulated sugar
¾ teaspoon baking powder
½ teaspoon salt
12 tablespoons (1½ sticks) butter, unsalted
2 eggs
1 teaspoon pure vanilla extract
2/3 cups mini semi-sweet chocolate chips (or regular chips chopped up)
Procedures:
Preheat oven to 350°F.
Spray the outside of each bowl cavity with vegetable pan spray.
In large bowl, combine flour, sugars, baking powder and salt; mix well.
In small microwave-safe bowl, melt butter; cool slightly. Add eggs and vanilla to butter; whisk until smooth. Add butter mixture to dry ingredients; mix well, forming stiff dough. Mix in chocolate chips.
Roll out dough on generously-floured surface to ¼-inch thickness. Cut 5 inch circles from dough. Drape one circle over each cup bowl of pan, pressing to form a smooth surface.
Bake 12–14 minutes or until cookie cups are firm and golden brown. Cool on pan over a cooling rack for 5 minutes. Gently loosen bottom edges of cookies, remove from pan and let cool completely. Wash, dry and spray pan; repeat with remaining dough.