Erin Miller
Winemaker, Twomey Cellars/Silver Oak (Napa & Sonoma Valleys, California)
As Erin Miller was preparing to go into the Peace Corps, she took a detour that would change her life.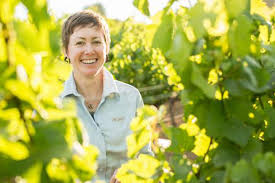 "I was on my way to Niger, West Africa, and I wanted to work down some of my student loan debt before becoming a volunteer for two and a half years. I heard about a harvest job in Napa, and I thought, 'What better way to earn a little money than by working 12 hours a day, six days a week as a harvest cellar rat?'" But in working that harvest job Erin discovered "the sheer joy of winemaking," and when she returned from Africa, she pieced together her love of agriculture, the outdoors and winemaking, and determined to make her career in wine.
"The good news is that winemaking is about grit and collaboration, so the women who've trail-blazed in this industry, by definition, are the type to make sure the road is easier for the next generation. Now it's my job to make incredible wine and be a mentor to the next generation."
After earning her Masters of Science from U.C. Davis, Erin headed to France, working as a vineyard and cellar intern at Domaine de Coume del Mas in Banyuls‐sur‐mer and then Domaine Rene Lequin‐Colin in Santenay. In France Erin was taken with the concept of the "vigneron," the idea that the winemaker is also intimately involved in the vineyard. "We tend to separate those two things here in the U.S., but I love the idea of bringing them together, of that seamless transition from vineyard and grapes to wine and ultimately, to the table."
Wine to try: 2014 Twomey Russian River Valley Pinot Noir, $43